Hang on! – There´s always time to quit later
22. August 2020
Get started!
Yoga is not Yoga. As reading a book is not reading any book. You chose carefully before you spend time in doing something. When you read a book, you might even switch genre, depending on your current interest or mood. But whatever book chose, you normally hang on and don´t quit, before you have an idea what´s the story about.
The same applies for Yoga. There are different styles, like Hatha Yoga, Vinyasa, Kundalini, Yin Yoga, only to name a few without going into detail. And even when you stick to one style, you may choose different teachers, who inspire you and keep you on track of doing the work.
I started with a one-on-one Hatha Yoga training. In these practices, the positions are held for several breaths to harmonize breath and body within the asana (position). My teacher, Sophia, was considerately correcting the alignment of my body during the pose to avoid injuries caused by mal alignment. It was a gentle practice, but over the months she added more poses for strengthening my core, flexibility and balance.
Hang on!
I was very happy with the practice, but after 8 months we both left the country, so I had to find a new teacher. I started looking for online alternatives and bumped into the pleasant Vinyasa Yoga flow from Tara Stiles at stralayoga. It was a different approach, but not less effective. It was easy to access and over time I started to enjoy my daily Yoga lessons online. In the morning, I was looking forward to bend my body in a gentle flow and let my breath take me along.
Last summer I had to slow down my Yoga practice due to a shoulder injury, but I kept the gentle practices and only eliminated asanas, which stress the shoulders. After 6 months I was able to reclaim my strengths and to invigorate my practice.
I touched base with a new Yoga teacher, who´s focus is on building overall strengths. He has an amazing core stability, so his trainings seem to be very effective. My husband and I dived into these online practices with Patrick Beach. He has a lot of different series depending on your momentary focus. Whatever practice you choose, you will be led through even the stronger ones with his gentle voice and a deep focus on the breath. Some days it needs a bit of motivation to come down to the mat and challenge your body and mind.
Don`t quit!
It´s easy to skip the practice for a day or two, if you´re doing it online. But it´s hard to restart, after you missed a couple of weeks of practice. Yoga is not about how you do your practice, but why. Yoga is maintaining a continuous flow of breath throughout the day. The asanas are only the tool for it. It is not important which style you choose, but that you hang on and keep going once it´s getting challenging.
I absolutely enjoy Vinyasa flows, but whenever I feel my mind is spinning too much, it´s time to realign my focus and tune into a Hatha Yoga session with Yogarupa Rod Stryker.
His teachings are based on 40 years of practice and he has deep knowledge of the Yoga philosophy. His calm and sonorous voice lead you through the asanas, so there is no other way than slowing down your breath and relaxing into the pose. The ease of his voice trick you into thinking these sessions are not challenging. The opposite is the case. The easier the poses, the more intense the outcome. It is the deep alignment with your breath in holding an asana consciously, which leads to the overall benefit of the practice.
I´m a fan of Yoga, because it´s not a sport, but a way of living. And you can start at any time in your life. Whatever it is, you like to explore more thoroughly, just hang on when it´s getting harder and don´t quit before you know what´s the story about. (Also read why the shape of the pose has zero value.)
"A hero is one who knows to hang on one minute longer."
Das könnte dich auch interessieren
16. Februar 2021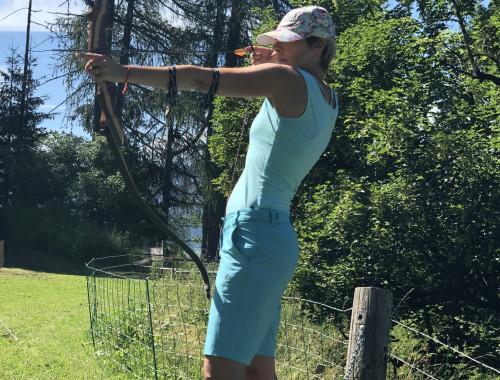 20. April 2021